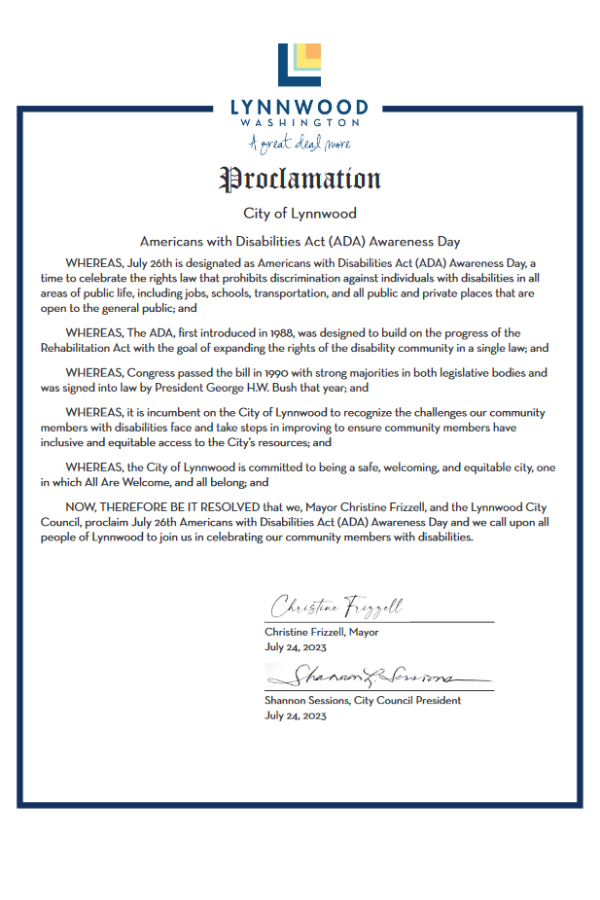 July 26, 2023, ADA Awareness Day; City of Lynnwood
July 26, 2023, has been designated as Americans with Disabilities Act (ADA) Awareness Day by the City of Lynnwood City Council and Mayor Frizzell.
Please join Work Opportunities in acknowledging and celebrating this day!
Today is a time to celebrate the rights law that prohibits discrimination against individuals with disabilities in all areas of public life, including jobs, schools, transportation, and all public and private places that are
open to the general public.
And please unite with us and city officials in encouraging employers to fight perceptions that are keeping people living with disabilities from joining the workforce and encourage employers to hire people with disabilities as an integral part of their workforce.
We are grateful for all of the local businesses that partner with Work Opportunities who have already embraced creating a diverse workplace that includes people with disabilities!
We are grateful for the City of Lynnwood, Lynnwood City Council, and Mayor Frizzell in recognizing this day and committing to build an inclusive community and workforce.
,