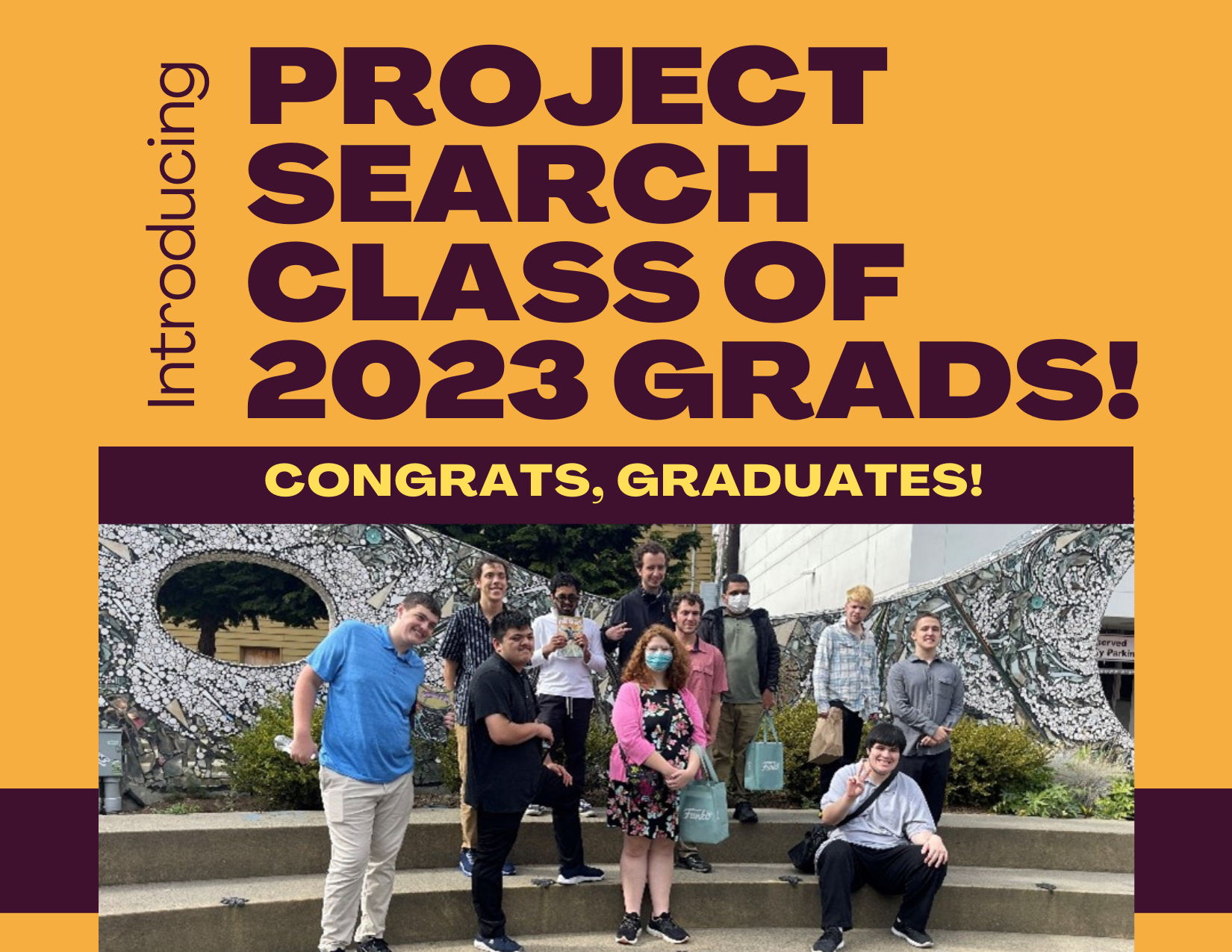 Project SEARCH Class of 2023 Grads!
Project SEARCH Everett was started in 2019 when Work Opportunities partnered with the Everett School District and Providence Regional Medical Center. Along with attending an "employability skills" class with an Everett School District Special Education teacher (Phil Smidt), each intern will do three internships throughout the hospital over the course of the school year. Some departments who have hosted interns are sterile processing, supply chain/distribution, equipment transport, food services, volunteer services, inpatient rehab, and the Children's Center. Each intern is fully immersed with the host business, working right along hospital staff. In the spring, Sarah Johnson (who is the primary employment specialist for the program) starts job development. After graduation, each intern who is utilizing our services will continue to look for work or will already be working in a paid job.
Project SEARCH class of 2023:
Top Row: Ian, Haegen, Joel, Ryan
Middle Row: Elijah, Ethan, Austin
Bottom Row: Gunnar, Tomas, Lilly, and Nick
So far, four of our graduates are working in paid jobs! Tomas has decided to continue working at Chuck E. Cheese, where he has been working for the last three years. Lilly is now working at Papa Murphy's, Ethan is now working at Town and Country Market, and Joel is working as a food service worker at Providence Regional Medical Center! Joel is the first intern to be hired by Providence, the host business partner.
From the Project SEARCH website: "Project SEARCH was developed at Cincinnati Children's Hospital Medical Center, a research environment that fosters visionary thinking and innovation. It all began in 1996, when Erin Riehle was Director of Cincinnati Children's Emergency Department. Erin felt that, because the hospital served individuals with developmental disabilities, it made sense that they should commit to hiring people in this group. She wondered if it would be possible to train people with developmental disabilities to fill some of the high- turnover, entry-level positions in her department, which involved complex and systematic tasks such as stocking supply cabinets. As a starting point, Erin presented her ideas to Susie Rutkowski, then the special education director at Great Oaks Career Campuses. Erin and Susie formed a partnership that was instantaneous, and together they launched Project SEARCH.
Since its inception, Project SEARCH has grown from a single program site at Cincinnati Children's to a large and continuously expanding international network of sites. Project SEARCH's primary objective is to secure competitive employment for people with disabilities."
Project SEARCH now has over 500 programs worldwide, with 75.5% of graduates obtaining integrated and competitive employment.
Congratulations, Project Search and the graduating class of 2023!!
,